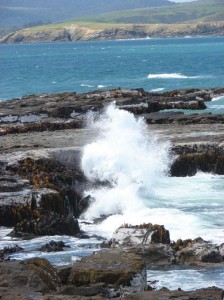 As we were now in the Catlins – some serious touring was going to be done.  Next on our itinerary was visiting Waipapa Point lighthouse and coming (almost) face to face with a bull sea lion which was resting on the sand.
Next was Slope Point, the most southern point of the South Island.  Hard to comprehend this as the weather was so lovely – not cold at all.  We were in shorts and tee shirts and didn't need the winter duvet at all.  Because we have a fourwheel drive vehicle, of course, we felt and gave into the temptation to try it out.  Works well!!
Also because we were in a fourwheel drive ute, the locals were waving to us – I guess they thought we were one of them cos we weren't in a motorhome or a red Juicy or El Rento rental car …
Last but not least was Curio Bay and Waipawa. Both of these sites were lovely to visit.  We only saw one seal at Curio Bay – in fact I had taken a couple of pictures of him coming out of the water and didn't realise it was in them until I was downloading them later!  The animals in this part of the country are big!!  Very well fed I'm thinking.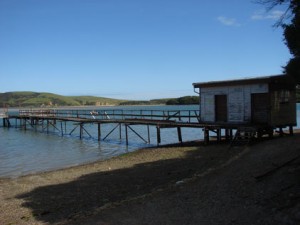 Lovely little wharf at Waipawa – I have a soft spot for these.