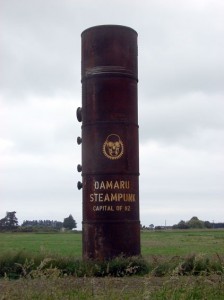 So we've now left the Memorial Hall park in Waimate and moved a couple of k's along the road to the NZMCA park.  The plan here is to park overnight but during the day backtrack to Oamaru to catch up with steampunk guys and gals.  We'd been asked to do up a brochure that was going to be presented to the tourism team in Oamaru.  Helen and Darling wanted there to be a map showing a trail of steampunk items for people visiting the area to follow.  Turns out that the tourism team have already got this happening and will be sending out their version of this brochure in the next week or so.  However, I'll still send my version to Helen for her to upload to websites, etc.
During the Fair yesterday, Donna Demente visited Amanda's stall and was raving about her images, jewellery etc.  She asked that Amanda visit asap and please could Donna have some of Amanda's jewellery in her gallery.  Donna's gallery in the old Grainstore is very popular – it's in the old part of Oamaru.
When we did get to see Donna she was so enthusiastic and just kept raving about Amanda's stuff.  Very very encouraging to say the least.  And then Amanda showed her the cards that she's made – well, that really got Donna excited even more.  So, fingers crossed that Donna's Grainstore Gallery will be a good outlet for selling Amanda's stuff.